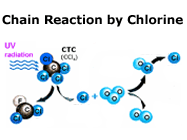 DISCOVERY OF THE OZONE HOLE
Scientific studies conducted since the late 1970s confirmed that the concentration of ozone in the stratosphere is dropping. The discovery of an annual formation of an 'ozone hole' over Antarctica, a zone with significantly less ozone than usual, provided further evidence of this phenomenon. Successive observations showed an enlargement of this hole over time and an increase in the UV-B radiation reaching the surface of our planet.
This discovery, along with evidence that ozone is being lost at nearly all latitudes outside the tropics, has prompted much research into the causes of this depletion and the biological effects of increased exposure to UV-B rays. Today it is scientifically established that man-made chemicals are the source of ozone depletion. The culprits have been tracked down to some compounds containing Chlorine and Bromine. The culprit compounds are technically known as ozone depleting substances (ODS).